Meet Our Donors
On behalf of the Catholic Diocese of Arlington, we would like to thank all of our current donors for their generosity and support. Here are some of their stories.
---
Donor Story – Bill and Trudee Ratliff
The Joy of Giving from the Heart
Mr. and Mrs. Bill Ratliff have been parishioners at St. Timothy's Parish in Chantilly for more than 25 years. They love celebrating their faith, and participate in several ministries close to their home and heart.
Looking for a worthy investment, Bill and Trudee established charitable gift annuities paying them lifetime income until their deaths, at which point, the parish will receive the remainder. This approach is much more appealing and gratifying for the Ratliff's rather than simply leaving income in a low interest account.
Trudee recently stated, "The gift annuities were simple to create. I just called the Diocese and requested the application papers, completed them and mailed them back. We then had a guaranteed, fixed income stream that began shortly thereafter."
Every year a 1099 form is mailed to Bill and Trudee for tax purposes. When establishing a CGA, donor (s) can choose to receive their income by mail or direct deposit.
They have derived so much joy from St. Timothy's and are happy their CGA will leave money to help the parish endure and thrive so future parishioners can celebrate and participate in their Catholic faith.
Both Bill and Trudee stated that they believe if you love your faith, you may want to establish a CGA or another gift to benefit your parish or a Diocesan program of your choice. They are glad they did.
Charitable gift annuities are irrevocable. If you fund a CGA with cash or appreciated stock, you will receive a charitable deduction, fixed, guaranteed income for life based solely on your date of birth. The older you are, the higher the payout rate. If you fund a CGA with appreciated stock, you will pay reduced capital gains tax.
Sample Annuity Rates
| Age | Rate |
| --- | --- |
| 70 | 5.6% |
| 75 | 6.2% |
| 80 | 7.3% |
| 85 | 8.3% |
To request a charitable gift annuity calculation, please contact Gretchen Koch at (703) 841-3819 or g.koch@arlingtondiocese.org.
---
Responding in Faith and Gratitude
Fairfax Station Couple Places Trust in the Lord and Church when it Comes to their Stewardship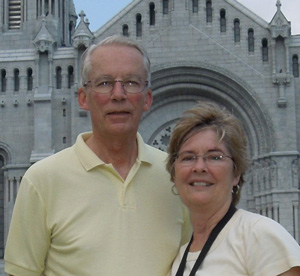 Eric and Barbara Mansfield
Giving of ourselves and making sacrifices for our Church requires a "leap of faith" on some levels. It calls for faith in God to continue to bless our families and our livelihood, and trust in the Church leadership to be good stewards of our gifts of time, talent, and treasure. Having a deepening faith in both of these things is what has motivated Eric and Barbara Mansfield to include their parish and diocese in their estate plans.
"Our faith in God and the Church has made us aware of the real meaning in life and that meaning is hopefully everlasting life with God in Heaven."
Born and raised in Detroit, Michigan, Eric Mansfield received a commission from the U.S Naval Academy. After graduating, he spent four years on active duty based aboard ships in Norfolk, making several 6 month deployments. He then began working as an engineer in the DC area in the late 60's. Barbara Mansfield was born in Peoria, Illinois, and also grew up in the Midwest before coming east, initially to teach, then embarking on a successful career at Ford Motor Company. Eventually the two met at the Washington DC Ski Club where they were both active members. Over the years, the Mansfields have spent time participating in Church ministries and organizations such as the Knights of Columbus, Legion of Mary, their parish choir, and serving as Extraordinary Ministers of the Eucharist, all while attending Our Lady of Angels in Woodbridge.
Eric recently offered his thoughts on their philosophy of supporting the Church; "Although we do support several charities, we have always had particular confidence in our giving to the Church. We believe in the mission of the Church and we know that gifts through our estate will be put to good use." This insight he gained and nurtured from his parents but also from his and Barbara's experiences in the Diocese of Arlington. "Certainly our parents have had the most beneficial influence on our faith lives. In addition we are so pleased to have been exposed to the many good priests of our Diocese as well as the Dominican Sisters of Nashville."
As years went by, the Mansfields felt compelled to remember their Church in their will. "We've been so blessed throughout our lives that it was a natural decision for us to include Our Lady of Angels and the Arlington Diocese in our estate plans. Once we consulted with an attorney and understood the process, it was actually quite easy. We now have a sense of peace knowing that we are planning not only for our future but also for the future of our Faith
---
From Berlin to Virginia…A Pilgrim's Journey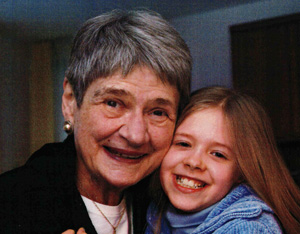 Lucie Dilger
Lucie Dilger loved to travel. Whether driving across the state, flying across the Atlantic Ocean, or walking across town, Lucie Dilger was always up for an adventure. In 80 years of life, those adventures led her from a young girl growing up in Germany, to teaching in the public school system of Arlington, VA. According to friends and family, her favorite places to visit had some connection to her Catholic faith. Whether going on retreat in Emmitsburg, MD, attending classes at Christendom College, or driving to her Church to pray the Rosary, she always had God in mind. A long time friend recalls a few trips with Lucie, "Every time we got in the car for a trip, Lucie would take out her Rosary and invite the group to pray with her. It made the journey feel like a mini pilgrimage."
Lucie was born in 1935 in Berlin during the rise of Hitler's Nazi regime. As a young child she witnessed years of bombing by the Allied Forces. Lucie grew up as an only child whose parents were deeply committed to their Catholic faith. While in Germany, she met her husband Paul, an attorney from the United States. They married and moved to Virginia where they attended St. Louis Church in Alexandria. She received her Master's Degree in Education from Catholic University and became a German teacher. Lucie was also well known for her love of music, particularly the opera and the Washington Opera Society.
Throughout life, traveling was something that remained close to Lucie's heart. She took many trips with friends and church groups to Ireland, Guadalupe, Mexico, and the Holy Land. She loved to visit and pray at these Holy places. She was very fond of silent retreats and classes that were taught locally such as the Summer Institute at Christendom College. Ever the student and teacher, she had a passion for continued learning and personal faith formation. "She was always praying and reading. I was so impressed by how much she knew about our faith. She was constantly trying to learn more about God and the deep traditions of the Church. She made me want to be a better person and a better Catholic," says Richard Hunter, a friend of Lucie's from St. James Church where they met while participating in a vespers prayer group. Richard and his wife Pauline were so fond of Lucie, they asked her to be the Godmother of their daughter. "We always felt a deep connection to Lucie. She was prayerful, holy, and easy to be around. We wanted our daughter to experience those attributes."
Lucie's generous spirit and dedication to her Catholic faith brought her to make arrangements to name several Catholic organizations in her Trust. Lucie took practical steps to not only plan for her own future but also for the future of the Church she loved so much. Lucie had an attorney draft her Trust that included simple language to name the Catholic organizations that were important to her. She also named the Church as a beneficiary on a retirement account that provided a tax benefit to her estate. These were two simple, yet powerful, testimonies of her commitment to the Catholic faith.
This past March Lucie passed on to eternal life and although her friends and family were sad to see her go, they were grateful to have had her in their lives. With faith and hope in the resurrection, they knew that this new journey was something she had been preparing for all her life.
---
Walking and Talking to Spread the Word of Jesus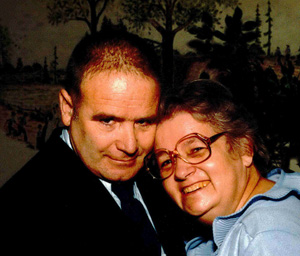 Carl and Barbara Bradford
To those who knew him, Carl Bradford was a quiet and reserved parishioner. He was born and raised in D.C., then married the love of his life, Barbara. As a baby, she was baptized at St. Dominic Catholic Church in Southwest Washington, D.C. Carl converted to Catholicism prior to their marriage. Carl and Barbara chose to move to the suburbs and purchased a house in Dale City, Virginia. This would become their home for more than 40 years. In 1974, they watched construction on the nearby hillside that developed into Holy Family Church and later, included the opening of a school.
Mr. and Mrs. Bradford were gentle spirited people who lived a Christ-centered life. As an optical technician, Carl commuted to D.C. daily. He suffered the loss of Barbara when she passed on from this life in 2008. Over the years and as a widower, Carl spent countless hours professing his faith as a member of the Legion of Mary. He purchased copies of Pillar of Fire, Pillar of Truth in large quantities and distributed the booklets along with rosaries. Throughout Dale City, Carl would walk 10 miles a day until his health would not allow him. On these walks he talked to many people including those who no longer attended church. Carl talked to people about their past experiences in life and knew that we are all human and as humans, we all make mistakes. Although he was never blessed with children, he loved them dearly and enjoyed conversing with them.
Both Carl and Barbara suffered through a number of debilitating health issues in their lives. However, their faith and trust in God never diminished, but rather, was even strengthened. The Catholic faith was always important to them, and they desired to help further our Church when they passed on to be with the Lord. If one can call a will lsquo;simple', that is how Carl aimed his to be when he updated his will after Barbara's death. He named an executor and stated that upon his death, all of his belongings be given to the Catholic Diocese of Arlington for general charitable purposes.
Carl's named executor was a close friend and fellow member in the Legion of Mary. Carl and Barbara lived a poor life at their own choosing, but in so doing developed an above average estate. Their one extravagance was an annual vacation by car to the mountains of Virginia or beyond. They embraced the beauty of nature that God offers to all of us.
While our lives here on earth are certain to end, our Church and our love of Mary and her Son Jesus Christ will never end. Carl lived the life of a suffering servant. He realized the value of leaving his worldly possessions in the care of our Bishop who can help to ensure that our diocesan church operates in perpetuity. Bishop Loverde expressed his heartfelt gratitude for the generous example of stewardship exhibited in this estate gift. He noted, "As the Bishop, it is very humbling to have faithful friends like Carl and Barbara seeking to help further the mission of Jesus Christ in our diocese." This support from the Bradfords will be used by Bishop Loverde to provide help to Holy Family Parish, evangelization programs, and other diocesan programs to support and strengthen the Catholic faith.
---
Fund Your Passion into Perpetuity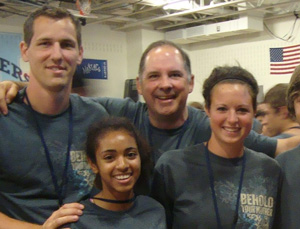 Nick Buck (center) with WorkCamp volunteers
During his first experience at The Catholic Diocese of Arlington WorkCamp program in 2006, Nick Buck saw teenagers living their faith by improving the lives of others in our diocese. Over the course of seven summers, Mr. Buck recalls being emotionally moved as he witnessed scores of life-changing faith experiences in teenagers, residents, and adult leaders. His conclusion: "What a difference we could make if every diocese in the nation followed this formula!"
As the father of two young adults, Nick witnessed teenagers' spiritual journeys through adolescence. "Work Camp affords youth time away from distractions, with peers who are asking the same questions about their faith. Seeing Jesus in others can make all the difference. When they finish high school and go on their way in life, it's these faith experiences that will keep bringing them back to the Church."
As a big picture thinker in the world of business and government, so too is Nick Buck as he talks about his philanthropic vision. To put his giving wish into action, Nick was one of the first donors to establish a Donor Advised Fund (DAF) at The Foundation for the Catholic Diocese of Arlington. Discussing his DAF with others, Nick realized that the physical challenges of homelessness and hunger can impede spiritual growth. "It's hard to maintain your faith in God's love when you're sleeping outside and haven't eaten."
Confident God was revealing a greater plan, Nick prayed on a name for this Donor Advised Fund and was led to the Archangel Raphael. His DAF is identified as The Raphael Fund because Raphael protects us in our physical and spiritual journey. The Raphael Fund's charitable intentions include:
Ensuring WorkCamp has resources to continue in perpetuity as costs include unplanned materials and contractor expenses
Increasing the potential for WorkCamp to attract new youth ministers in our diocese and dioceses throughout the United States
Providing shelter for homeless youth within our diocesan boundaries
Nick's philanthropic interests are to assist youth in their spiritual journey with Christ, providing conditions that enable them to find and fall in love with Christ. This starts with ensuring they have shelter if needed and follows with opportunity to participate in WorkCamp. Nick told us "God has done amazing things for me and I recognize that He does these things through each of us. We truly are His hands and feet. I'm blessed that the Lord would work through me to bring our youth to Him."
At 50 years young, Nick Buck has discerned his vocation and he is working to enact change during his lifetime. The Raphael Fund provides a way to ensure that even upon his death, his charitable giving will continue. Many of us have areas of interest we wish to benefit into perpetuity. Endowments and Donor Advised Funds can streamline your management of donations as you can contribute now to benefit into the future. As a busy husband, father, volunteer, and business man, a final quote from Mr. Buck sums up his use of time "Thank you for what my DAF does. It really takes a lot of work off my plate and enables me to focus on the mission!"
---
---
Donor Testimonials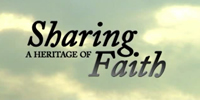 Legacy Giving:
Sharing a Heritage of Faith
Click here to view.
---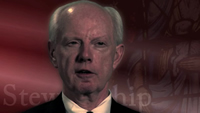 Bob Chiralo on Stewardship:
"It wasn't a question of doing it, but of how much we would allocate."
Click here to view.
---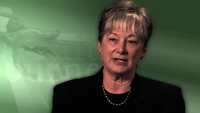 Monica Chiralo: Her Faith Journey:
"To be Catholic to me means to be a Christian, it means to be home."
Click here to view.
---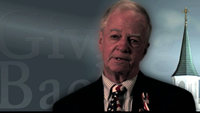 Robert Hatter on Giving Back:
"We decided to do this in her memory."
Click here to view.
---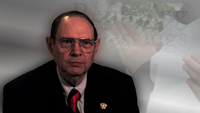 Charles Johnson: Returning Our Blessings:
"I'm just borrowing it for a short period of time."
Click here to view.
---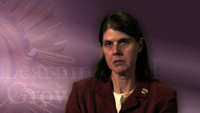 Vicki Johnson: Learning and Growing:
"The most important thing in life is to remember that you can always go to God."
Click here to view.
---